Here's a little dog to dog warning for you: watch out for baby butts. Sometimes they try to sit on you. Warning number two: this post might make you listless and forlorn (see bottom for those details).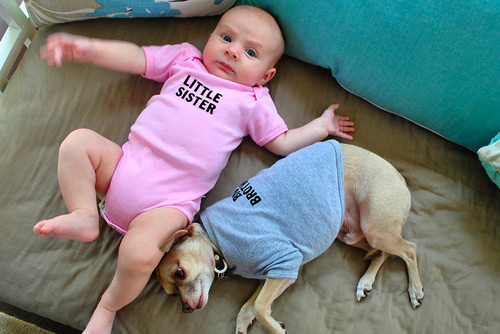 First, I must admit that I generally love my sister when she's not trying to sit on my head (especially now that she is eating solids and so thoughtfully drops a bunch of food on the floor for me). Which is sometimes why I allow her to hold my hand: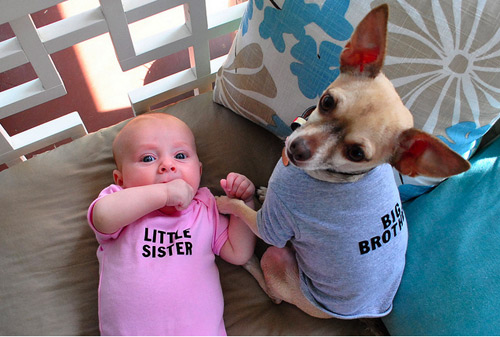 But those are just a few outtakes. Here's the final shot (taken a few months back). I think Tyra would approve of my "smise." Supermodel? Me? You're too kind.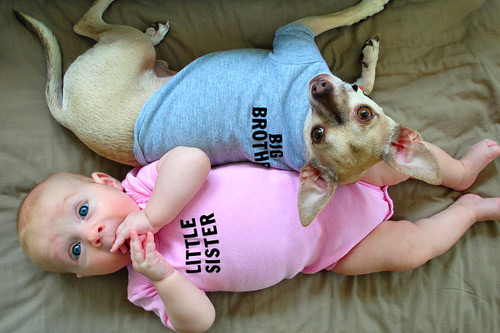 I must confess that I'm the handsomest devil I've ever seen. And while I'm making confessions, I have some good-for-me-but-maybe-sad-for-you news to share: after over a year of blogging I'm taking a little break. Who knows when I'll be back, but I've learned that I like to chillax and "hybernate" over the cold winter months. And since I won't have photos of myself laying around on the patio or in the sunroom or bug hunting in the backyard I've decided to put the breaks on the ol' blog for a while and enjoy the season of sniffing around for holiday scraps (turkey, pumpkin pie, gingerbread… life is about to get super exciting).
Plus we're moving to a new house that's allegedly even more stocked when it comes to backyard bugs and other exciting stuff for a pooch (rumor has it that there might be a big sectional where I can sleep away 90% of the day in my near future). So I'm looking forward to that. Until then, think of me often and smile. Oh and you can always keep tabs on me on my parent's blog (I work my way in whenever I can) and here on my sister's flickr page (you'll catch Burger with a side of Clara from time to time).
Ok, enough chitchat. Off to sleep in front of the heater. My tail is already wagging at the prospect. See you on the flip side!
&nbsp&nbsp

&nbsp

&nbsp
If you enjoyed this post, please leave a comment or subscribe to the feed and get future articles delivered to your feed reader.
Comments
« Previous
1
2
« Previous
1
2