Here's a little dog to dog warning for you: watch out for baby butts. Sometimes they try to sit on you. Warning number two: this post might make you listless and forlorn (see bottom for those details).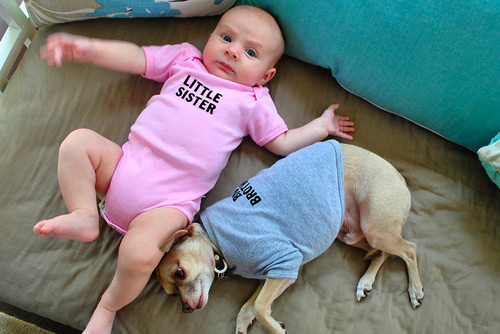 First, I must admit that I generally love my sister when she's not trying to sit on my head (especially now that she is eating solids and so thoughtfully drops a bunch of food on the floor for me). Which is sometimes why I allow her to hold my hand: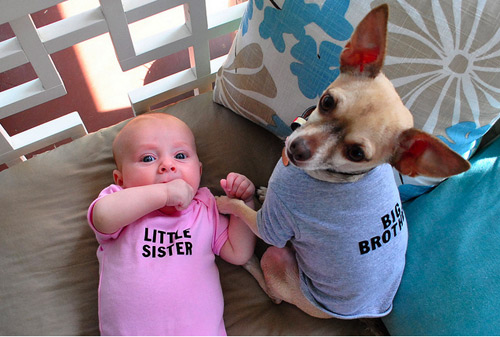 But those are just a few outtakes. Here's the final shot (taken a few months back). I think Tyra would approve of my "smise." Supermodel? Me? You're too kind.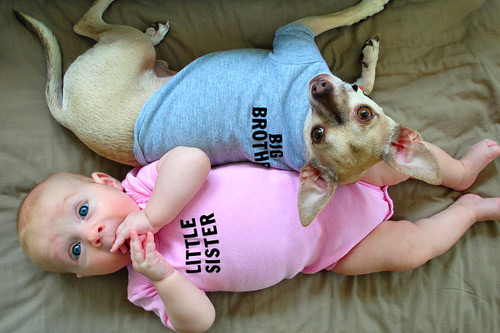 I must confess that I'm the handsomest devil I've ever seen. And while I'm making confessions, I have some good-for-me-but-maybe-sad-for-you news to share: after over a year of blogging I'm taking a little break. Who knows when I'll be back, but I've learned that I like to chillax and "hybernate" over the cold winter months. And since I won't have photos of myself laying around on the patio or in the sunroom or bug hunting in the backyard I've decided to put the breaks on the ol' blog for a while and enjoy the season of sniffing around for holiday scraps (turkey, pumpkin pie, gingerbread… life is about to get super exciting).
Plus we're moving to a new house that's allegedly even more stocked when it comes to backyard bugs and other exciting stuff for a pooch (rumor has it that there might be a big sectional where I can sleep away 90% of the day in my near future). So I'm looking forward to that. Until then, think of me often and smile. Oh and you can always keep tabs on me on my parent's blog (I work my way in whenever I can) and here on my sister's flickr page (you'll catch Burger with a side of Clara from time to time).
Ok, enough chitchat. Off to sleep in front of the heater. My tail is already wagging at the prospect. See you on the flip side!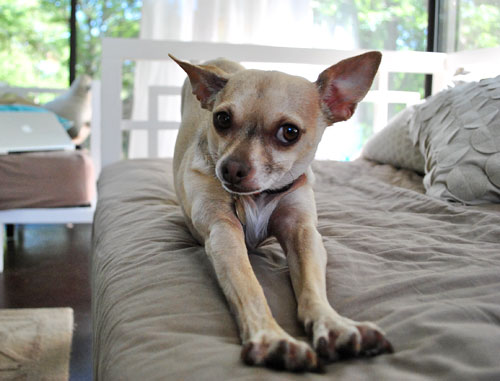 Date: a few weeks ago
Location: the sunroom (man I love that room)
I'm feeling: like a well oiled machine
Nothing makes you feel alive and ready for bug hunting like a nice deep stretch. Mmmm, makes me want to stretch right now as I write this post. In fact I think I will. Anyone else care to stretch with me?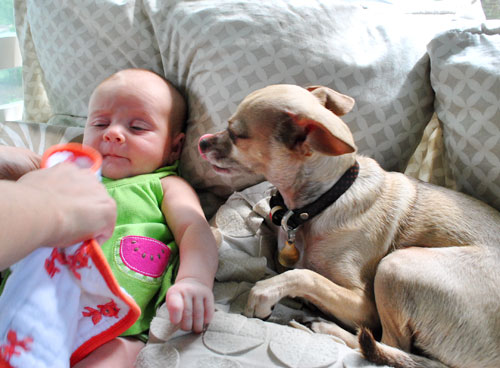 Date: a few months back
Location: the sunroom (with my favorite person)
I'm feeling: tempted
In this case, the heart wants spit up.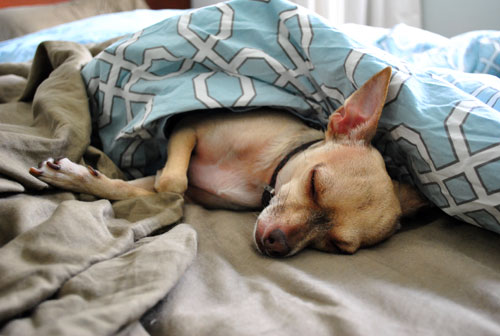 Date: just a few days ago
Location: the bedroom
I'm feeling: asleep
Gosh, look at me. I really am a perfect angel. No wonder my parents can't stop petting me and feeding me treats.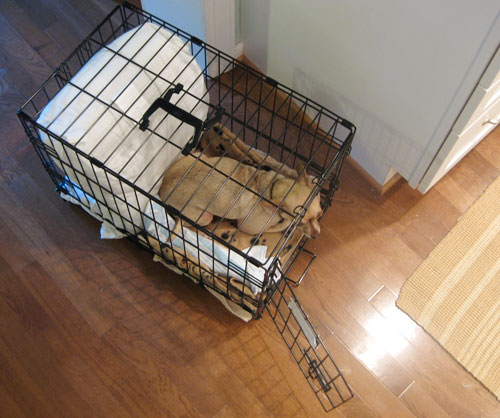 Date: about a month ago
Location: the kitchen
I'm feeling: ready to go
Words can't express how excited I get my when parents pull my crate out into the kitchen to indicate that we're about to embark on some overnight adventure. First I dance around it. Then I run laps around the house to make sure that all of my favorite toys have been packed. And finally I lay down in my crate as if to say "let's get this show on the road people."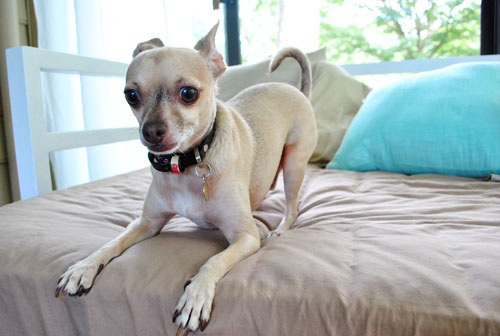 Date: a few weeks ago
Location: the sunroom
I'm feeling: graceful
It's shots like these that have me convinced I'm really a deer. Chihuahuas can't exemplify this much beauty and grace. Yup, at least one of my parents had to be a deer.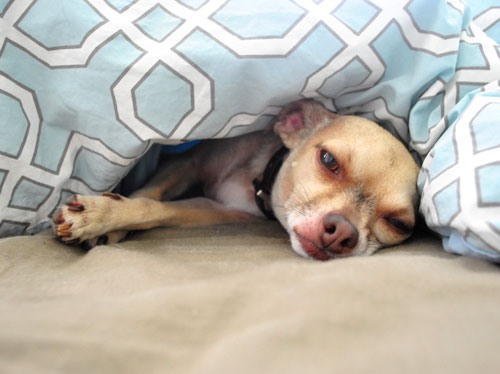 Date: about a month ago
Location: the bedroom
I'm feeling: well rested
I love sleep so much that I'm sleeping as I type this. And if you believe that I have a few dead bugs that I caught in the yard to sell you.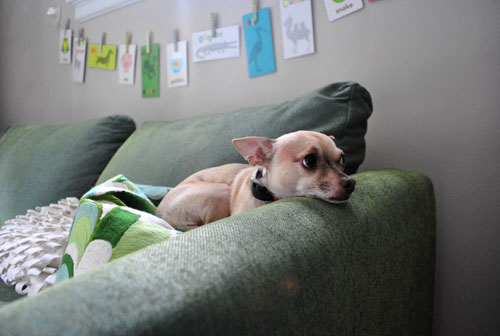 Date: last week
Location: the office
I'm feeling: modelesque
You know how supermodels have to think about something that inspires them to get that intense look in their photos? Well as I posed for this semi-profile-ish shot I was thinking about you, my adoring fans. And crackers. Have I mentioned I'm really inspired by crackers?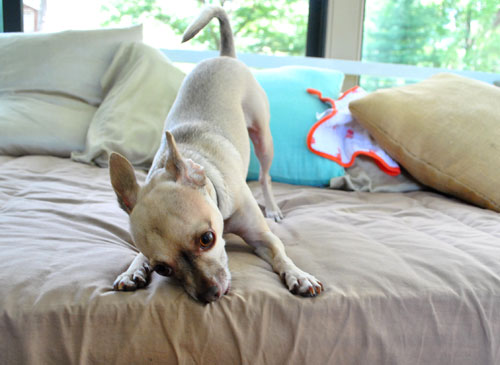 Date: three weeks-ish ago
Location: the sunroom (and yes, that's a burp cloth in the background)
I'm feeling: overjoyed
Sometimes I just can't help myself. I get so excited and happy that I just have to nibble something. Just a little. You know, in celebration of a fabulous existence. In fact I have a new motto: it's a great day to nibble the daybed.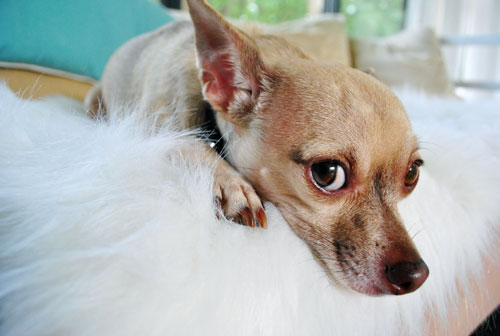 Date: three months ago (give or take three months)
Location: the sunroom
I'm feeling: self conscious
You'd think a handsome dog like myself is just as cocky as all get out, but sometimes I get a little bashful. Which I like to think makes me even more irresistible. Ladies, take a number.